Laatukilpi Oy and Härmän CNC-koneistus Oy merging
The new Kaskea Group is a major operator in the areas of traffic management and contract manufacturing
24.11.2020
News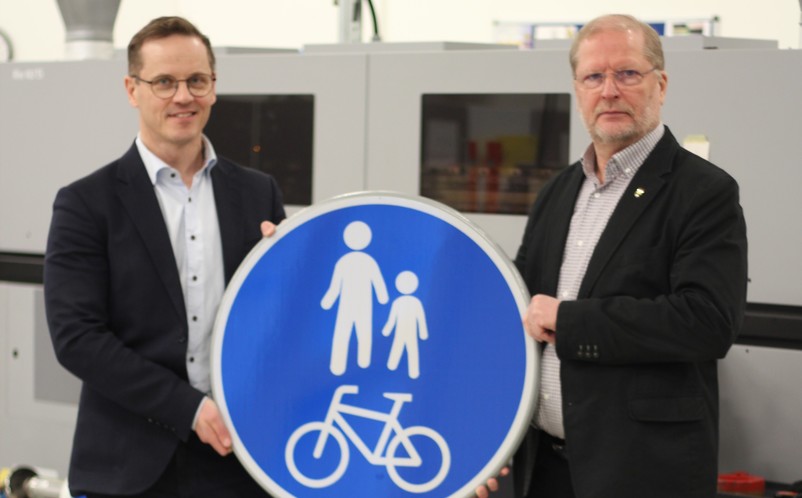 Laatukilpi Oy, which is an expert in signage and parking solutions, and Härmän CNC-koneistus Oy, which specialises in CNC machining, will merge into a single company on 30 November 2020. The two companies have been combining their functions throughout the autumn, and from 1 December 2020 onwards they will be operating under a shared name as Kaskea Group. The current CEO of Laatukilpi and Härmän CNC-koneistus, Vesa Rautava, will continue to serve as the CEO of the new company.

"We have been arranging the ownership of the two companies and clarifying our operations throughout the year. While doing so, we have come to the conclusion that it would not make sense to keep developing the two companies as separate entities, as they both possess expertise that benefits the other. Together, we will now be able to better utilise our know-how throughout the organisation. As a single company, we will also be able to more effectively and comprehensively serve our customers," says the Chairman of the Board of Kaskea Group Juha Mikkola. Mikkola has previously served as the chairman of the board of both merging companies.

Kaskea Group will be organised into three business divisions: Kaskea Traffic, Kaskea Machinery and Kaskea Parking. While the two companies have previously operated in all three of these areas, their operations are now being organised into three distinct entities. Kaskea Traffic will encompass traffic signs, signage, other traffic management products and street furniture. Kaskea Machinery will serve as a connecting link, providing expertise in CNC machining and steel and aluminium structures to both customers and the other two business divisions. Meanwhile, Kaskea Parking will encompass smart parking solutions, ticket machines and parking management systems.

"Kaskea Group combines not only the latest know-how and top-class expertise from several industries, but also decades of experience and best practices refined over years of successful business operations. As a single company, we will continue to offer even better comprehensive solutions to our customers and business partners. Our business divisions now complement and balance each other better. At the same time, we will be able to offer a more dynamic workplace to our personnel, with opportunities for competence development and renewal at the forefront of the industry," says CEO of Kaskea Group Vesa Rautava.

Focus on the acquisition of new customers and comprehensive growth

Kaskea Group will be pursuing strong growth in all of its areas of business. The company has a strong belief in a positive outlook and market share growth; there is clear demand for additional services needed by customers. In the near future, the company will be focusing particularly on the acquisition of new customers and mapping export opportunities. The number of personnel will also be increased, but on the market's terms.

"We will be making some significant investments immediately following the merger. Härmän CNC-koneistus provides us with excellent automation and engineering expertise. Our aim is to start utilising it by automating the manufacturing of signage and traffic management products, among others," says Mikkola.
"Both companies started out as family-owned businesses, and the new Kaskea Group will also operate according to the in-built mindset of a family-owned company. We believe that we have an excellent
foundation for the new Kaskea Group: a top-class board, with external administrative professionals and executives, as well as the internal cohesion, business drive and energy of a family-owned company. Moreover, the staff of both companies is highly motivated and committed, which is a tremendous asset for us," Rautava and Mikkola emphasise.
The merger will not affect the existing customer relationships or cooperation agreements of Laatukilpi and Härmän CNC-koneistus.
For further information, please contact:
Vesa Rautava
CEO, Kaskea Group
tel. +358 (0)50 348 5612
Juha Mikkola
Chairman of the board, Kaskea Group
tel. +358 (0)40 554 0512
Kaskea Group will commence operation on 1 December 2020 as a result of a merger between two companies based in the Southern Ostrobothnian region of Finland, Laatukilpi Oy and Härmän CNC-koneistus Oy. Kaskea Group's operations will be organised into three business divisions: Kaskea Traffic, encompassing the manufacturing and installation of traffic signs, signage and street furniture; Kaskea Machinery, which provides expertise in CNC machining and the manufacturing of steel and aluminium structures; and Kaskea Parking, encompassing the company's parking solutions and hardware and the maintenance thereof. Kaskea Group employs approximately 80 professionals. The combined turnover of the two companies in 2020 will be approximately EUR 10 million. https://www.laatukilpi.fi/ https://cnc-koneistus.fi/ Kaskea Group's website will open on 1 December 2020 at www.kaskea.fi, and at the same time the websites of Laatukilpi and Härmän CNC-koneistus will close.
Go back to "News"